❣❣❣⍨◄⚫► 𝐀𝐞𝐬𝐭𝐡𝐞𝐭𝐢𝐜 𝐅𝐨𝐧𝐭𝐬 ◄⚫►⍨❣❣❣
〚♮♩♮♩♮ ΛƐSŦĤƐŦĪƇ FᎾИŦS ♮♩♮♩♮〛
꧁༒☬ A҉E҉S҉T҉H҉E҉T҉I҉C҉ F҉O҉N҉T҉S҉ ☬༒꧂
彡✦✦❃ ᗛℨṨṪℌℨṪĬČ FƟŊṪṨ ❃✦✦彡
A̶e̶s̶t̶h̶e̶t̶i̶c̶ ̶F̶o̶n̶t̶s̶
A̷e̷s̷t̷h̷e̷t̷i̷c̷ ̷F̷o̷n̷t̷s̷
A̲̅e̲̅s̲̅t̲̅h̲̅e̲̅t̲̅i̲̅c̲̅ F̲̅o̲̅n̲̅t̲̅s̲̅
Aͦeͦsͦtͦhͦeͦtͦiͦcͦ Fͦoͦnͦtͦsͦ
A̲̅ë̤s̤̈ẗ̤ḧ̤ë̤ẗ̤ï̤c̤̈ F̲̅ö̤n̤̈ẗ̤s̤̈
(っ◔◡◔)っ ♥ Aesthetic Fonts ♥
˜"*°•.˜"*°• Aesthetic Fonts •°*"˜.•°*"˜
A͎e͎s͎t͎h͎e͎t͎i͎c͎ ͎F͎o͎n͎t͎s͎
▌│█║▌║▌║ ⓐ𝓔รⓉh𝔼t𝐢C 𝒇σⓝ丅Ŝ ║▌║▌║█│▌
✠ Enter Your Text for More Style ✠
Aesthetic Fonts Generator ✔️ Online 150+ Cool Text 💯% FREE
Via This Aesthetic Fonts Generator web application, people can easily create the Aesthetic Text for their Facebook, Instagram, Twitter, Tumblr etc. social profile. It is a free web-based app made by some programming languages like HTML, CSS, JAVASCRIPT, and some frameworks. Unicode is played the most important role in this tool. You can easily generate stylish names for your gaming profile (PUBG, Free Fire, COC, Fortnight, etc.) by the online aesthetic text generator tool. There have 150+ different aesthetic styles for users who actually want to make a Fancy Text.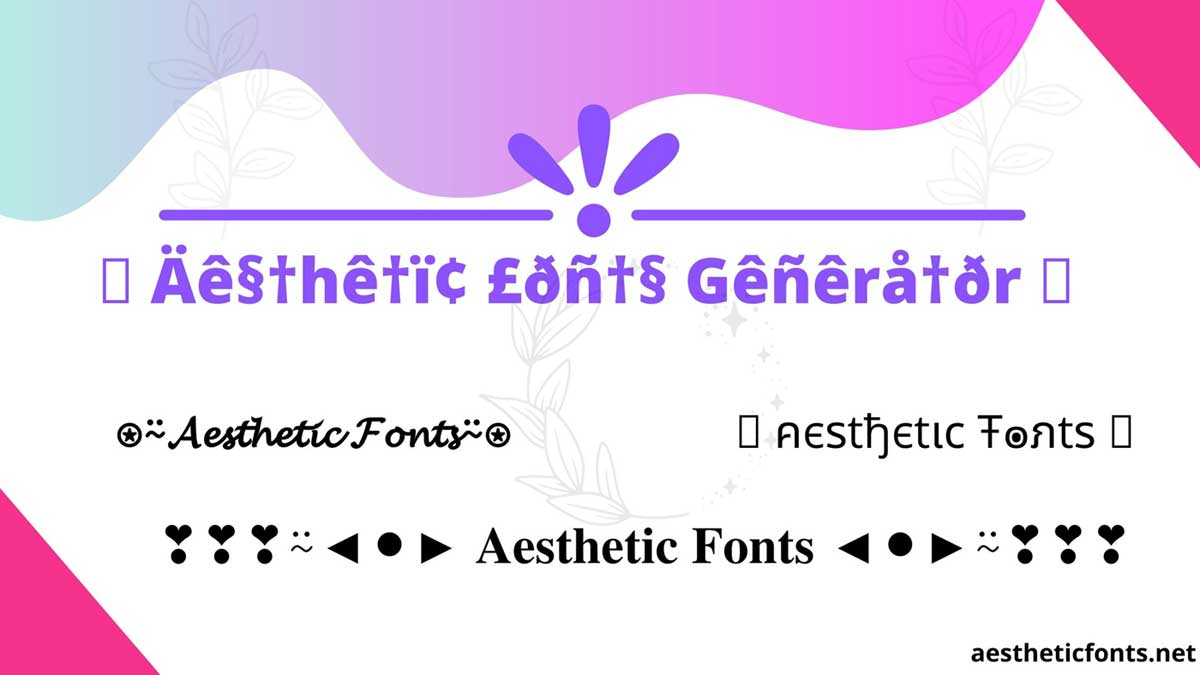 Nowadays, in the digital world, everyone wants to attract his/her customer in any way like a good title, good description etc. This tool those people who want to attract his customer by using this stylish fonts generator online tool.
How to use?
This tool is fully user friendly and simple, anyone can use this web application just enter the text in the input box. 1500+ unique aesthetic text appears below the input box and you can simply copy and paste with a one-click on your favourite style.
1) Write your text in the input box.
2) Copy and paste the result from the below result.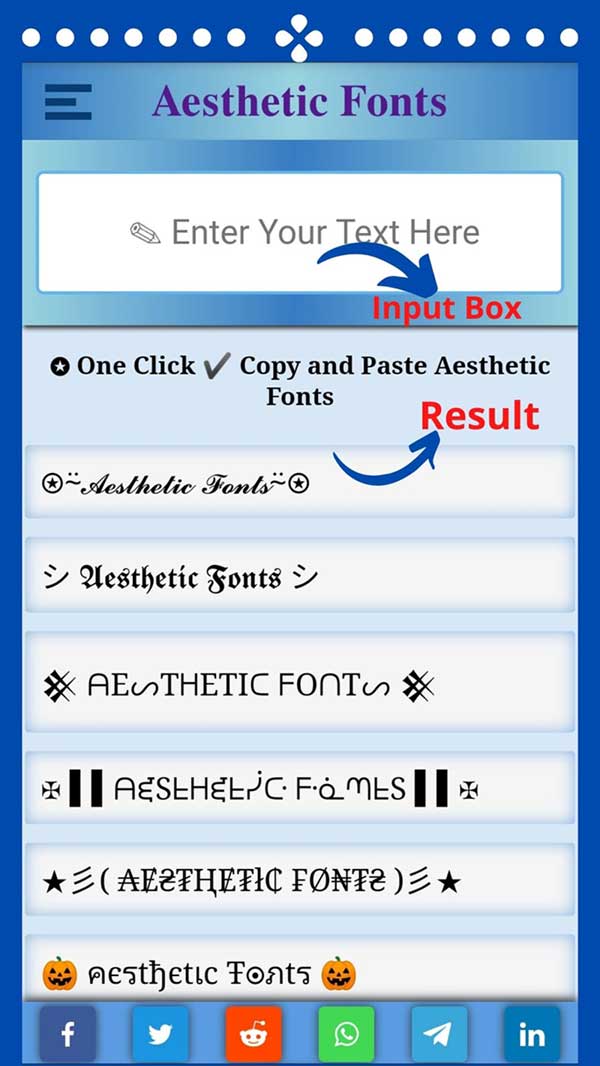 Names Generator with Symbol and Emoji
Nowadays, everyone wants to make a stylish name on Facebook, Instagram, Twitter, Tumblr etc. social platform. But it is quite difficult to make a unique name using symbols and Emojis. With this Aesthetic name generator website, you can easily create a stylish name with symbols and Emojis. Fonts will look better when they are created with Red Heart Emoji
Aesthetic fonts for Instagram, Twitter, Facebook, Tumblr
In this digital world, social media (Facebook, Instagram, Twitter, etc.) has become a part of our lives. These days everything is being posted on social media, and the engagement of these social sites is so high that all the big and small companies are running their advertisements and millions of posts are being made every day. In the crowd of this post, we use various techniques to make our brand and product visible to the people, one of which is the title and description. We can make these titles and descriptions unique and eye-catching only with the help of this Aesthetic font generator tool.
Aesthetic fonts Copy and paste
Keeping in mind that we provide you with simple and useful features, we have provided some unique and useful features like one-click, copy and paste, text size controller, mobile-friendly, chrome extension etc.
We have used various programming and scripting languages such as HTML, JavaScript, PHP, etc. To create this website. Unicode has also been used to create this site.
Random Aesthetic Text generator
We use different stylish texts at different times like Christmas, Diwali etc. In festivals we use different symbols and Emojis. With this tool you can easily generate random aesthetic fonts with the help of various festival match emoticons.
Another advantage of random text generator is that we can explore and apply different style fonts at the same time.
Name of Aesthetic Style
The names of the styles or fancy texts we have used in the above results are given below.
SYMBOLS

OLD ENGLISH

MEDIEVAL

CURSIVE

SCRIPTIFY

DOUBLE STRUCK

ITALIC

BOLD ITALIC

MONO SPACE

LUNITOOLS BUBBLES

INVERTED SQUARES

WIDETEXT

BOLD

FLIP TEXT

REVERSE MIRROR

SQUARES

MIRROR TEXT

INDIAN WAY

BIG RUSSIAN

JAPANESE STYLE

SUPERSCRIPT

SUBSCRIPT

STRIKE THROUGH

TILDE STRIKE THROUGH

SLASH THROUGH

UNDERLINE

DOUBLE UNDERLINE

ARROW UNDERLINE

WEIRD BOX

ZALGO TEXT

ROUND SQUARES

SQUARES

VAPORWAVE TEXT

LITTLE SPARKLES

FIREWORK

STINKY

HEARTS BETWEEN

CURRENCY TEXT

EMOJIS AND SYMBOLS
Text Compatibility
The Unicode-based text or fonts that we have used in these aesthetic text generator tools are compatible with all your devices like Mobile, Desktop, Laptop, Tablet etc.
For your convenience, we have created the Chrome Extension and Android App of this web tool which you can install from the Chrome Store and Play Store.
✔️ Frequently Ask Questions
1. How to make aesthetic fonts in Photoshop?
It is very easy to use Aesthetic font in Photoshop just visit this site and enter your text in the text box then copy your favourite style of the below result.
2. How to write aesthetic Style?
In our busy lives, typing in aesthetic style is a little difficult, matching different symbols and Emojis is a time-consuming task. You can create stylish text of your choice from our website in just a few seconds.
3. How does an aesthetic font work?
Aesthetic fonts are a style of stylish or different types of fonts that we use for different purposes. This aesthetic fonts generator has a database working in the backend through which we can generate this kind of unique text.
4. What is the most aesthetic font?
The most fonts is...
OLD ENGLISH

MEDIEVAL

CURSIVE

DOUBLE STRUCK

MONO SPACE

WIDETEXT